Dr. Kevin Mikalaitis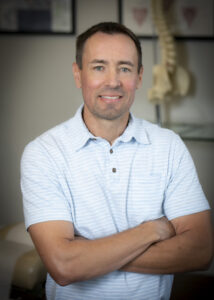 Dr. Kevin Mikalaitis was born and raised in Hamilton Township, New Jersey. He completed his undergraduate studies at the University of Delaware with a Bachelor of Science degree in Fitness Management and went on to earn a Doctorate from the prestigious Palmer College of Chiropractic   West in 2005.
His introduction to chiropractic came at a young age when he was diagnosed with scoliosis. During    this time, Dr. Mikalaitis experienced the holistic approach and emphasis of natural health and recovery by  his chiropractor. Dr. Mikalaitis' personal healing journey inspired him to help anyone wanting to  reach their health goals through a wellness-based approach.
Aligned with treating the root cause and not just the symptoms, he is a hands-on adjuster and primarily practices the Palmer Method which consists of a variety of Manual Adjusting Techniques, including: Diversified, Toggle Recoil, and Thompson Drop. In addition, he also practices gentler techniques including: Flexion-Distraction, Trigger Point Therapy, Cold Laser and the Activator Method.
Well-versed in a variety of therapies, he feels that specific specialized adjustments along with soft tissue work gives the best clinical outcomes. He is results-driven and is known for spending ample time with patients in order to deliver the best care. His goal is to eliminate your pain and get you back to the daily activities that enrich your quality of life.
Dr. Mikalaitis specializes in low back pain, extremity injuries, disc problems, sciatica, headaches, vertigo, neck/upper back pain, sports chiropractic, pediatric chiropractic, muscular/nerve problems, injuries from car accidents, pregnancy backaches and much more.
Aside from chiropractic, he is passionate about soccer, practicing jiu jitsu, and spending time with his wife and their amazing 9-year-old son.