(239) 375-0677
OMNI Balanced Life Center
720 Goodlette-Frank Rd #205
Naples, FL 34102
Hours
Mon – Fri:  9am-5:30pm
After hours as requested
Dr. Kevin Mikalaitis – Naples Top Chiropractor
Now Welcoming New Patients! 
What makes us stand apart from other Naples chiropractors?
Personalized attention, unparalleled results and a true appreciation for treating the person and not just the condition all set us apart.
As your chiropractor, Dr. Mikalaitis' primary goal is to help patients achieve optimal health and well-being by restoring the natural function of their body through non-invasive and drug-free methods. His treatments involve a wide range of techniques that are designed to alleviate pain and discomfort, increase mobility, and improve overall physical performance.
With years of experience in the industry, Dr. Mikalaitis has developed a strong reputation for providing customized and targeted solutions to address your healthcare needs. Whether you're suffering from chronic pain or acute injuries, his services can help you quickly get back on track to a pain-free and active lifestyle.
At his practice, Dr. Mikalaitis places a strong emphasis on patient education, empowering patients to take control of their well-being and make informed decisions about their health. As a result, his patients not only feel better, but they also understand how to maintain their results and prevent future injuries.
Dr. Mikalaitis' chiropractic services are the perfect solution for anyone seeking safe, effective, and natural care for their musculoskeletal system. Contact us today to schedule an appointment and discover the many benefits of chiropractic care!
Specializing in: low back pain, extremity injuries, disc problems, sciatica, headaches, vertigo, neck/upper back pain, sports chiropractic, pediatric chiropractic, muscular/nerve problems, injuries from car accidents, pregnancy backaches and much more.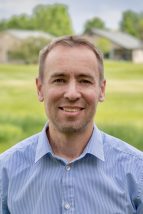 Dr. Kevin Mikalaitis
Dr. Mikalaitis is a hands-on adjuster and primarily practices the Palmer Method which consists of a variety of Manual Adjusting Techniques, including: Diversified, Toggle, Recoil, and Thompson Drop. In addition, he also practices gentler techniques inducing: Flexion-Distraction, Trigger Point Therapy and the Activator Method, specifically catering each treatment to the individual needs and goals of each patient.
"I've been meaning to write and let you know how well Dr. Kevin fixed my back a couple of weeks ago (but I've been busy moving). Anyway, I could barely walk on the Friday morning that I came to you for my second appointment, But, whatever you did nailed it! I spent all day Saturday moving furniture and boxes (I know, not the best thing to do the next day but I had no choice). I couldn't have done it prior to my adjustment. More importantly, a few days later I was able to stand up straight and walk my daughter down the aisle for her Anchorage wedding. You rock!"